Elevate Your Home Design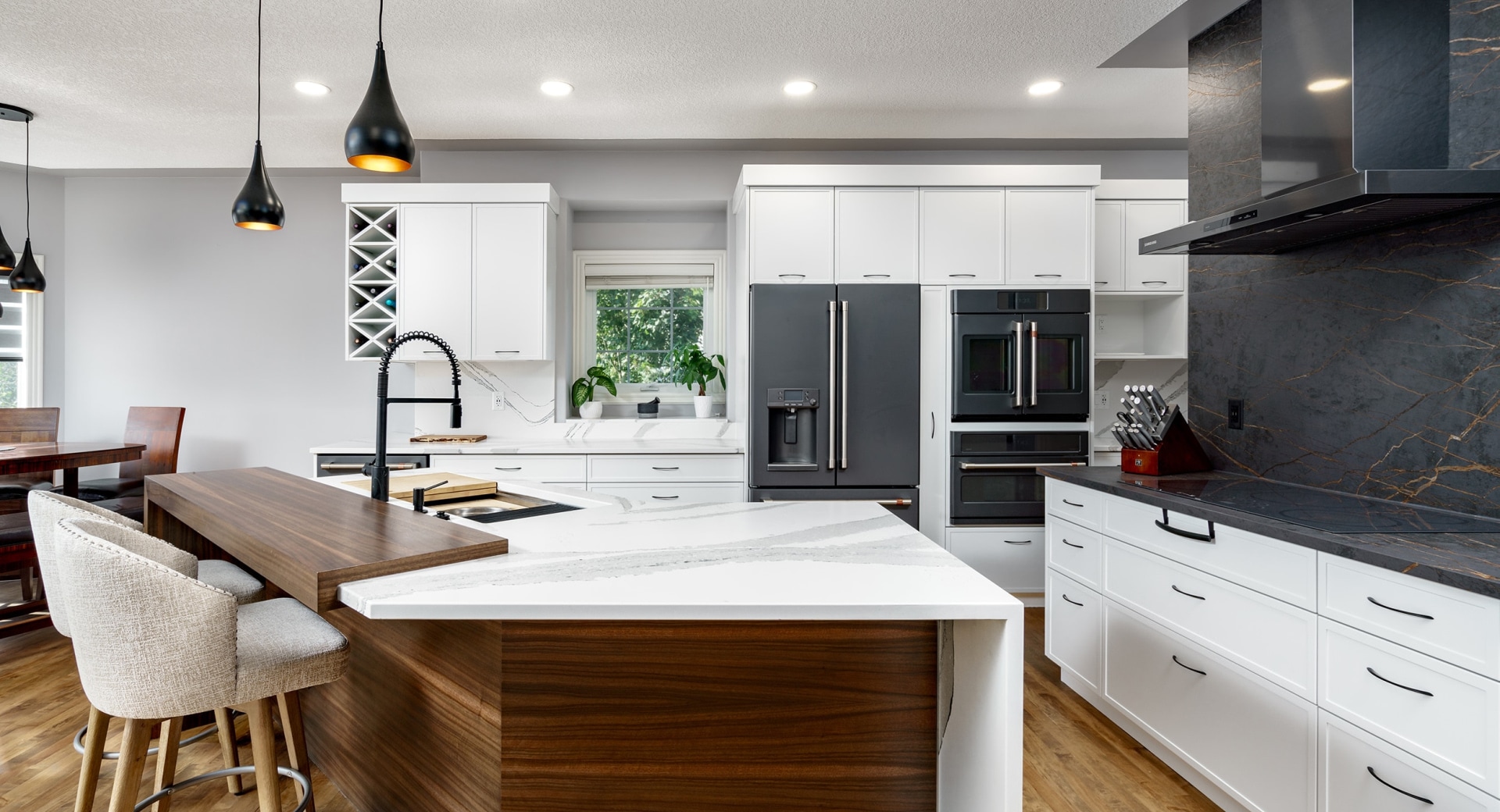 Elevate Your Home Design with the Best Interior Designer in Calgary
Welcome to Rusch Design Build, a versatile interior design team extraordinaire! At our award-winning Calgary interior design firm, we're here to meet all your residential design needs. Our talented designers are ready to unleash their creativity and Canadian decor expertise to transform your space into something extraordinary.
Our interior design studio takes pride in providing exceptional decorating services. We understand that interior decorating should reflect the individual's originality, and our journey is collaborative. We ensure that every step of the design process accurately reflects your style.
From start to finish, we'll guide you through the entire process. You are offered tailored solutions that elevate and reveal the true potential of your space. Whether you seek a luxurious, elegant aesthetic or a timeless, rustic boutique vibe, our team's attention to detail and custom millwork will complement your vision flawlessly.
Our client-centred approach means that we listen to your needs. You provide insightful guidance as we create beautiful visions that reflect your lifestyle. Whether you want condo furnishing or to undertake a large-scale addition, we have the expertise to bring your ideas to life.
So, let our award-winning interior design firm help you create inspired spaces that reflect your individuality. Our commitment to excellence and our passion for our craft has made us a trusted partner in the industry. Contact us today, and let's embark on a transformative design journey together. The outcome will be nothing short of extraordinary.
Why Is a Good Home Designer Important?
A great home designer can make your vision a reality, possessing the knowledge and abilities to turn your concepts into a beautiful, practical setting that meets your needs. They can help you develop creative solutions to residential design issues and advise on the latest trends and materials by overseeing the entire process and ensuring everything is done correctly the first time. A great specialist may also reveal original aspirations and enable you to save time and money.
The Best Local Home Renovation Designers
Calgary is home to some of the nation's most gifted and creative designers. Because of this, it is an excellent option if you're looking for help with your home renovation. Our Calgary interior designer can produce ideas specifically for you and your space. They are thoroughly aware of the local climate, culture, and architecture. Additionally, they have access to the most recent supplies and accessories.
What Makes the Best Interior Builders in Calgary Stand Out?
The dedication to quality, focus on detail, and creative designs make Calgary's stylish top interior planners and creators stand out. Because they design beautiful and practical rooms using the most recent technologies and materials. They can also provide design services based on their in-depth knowledge of the city's culture and architecture and a solid reputation for customer service. Top builders will ensure your project is finished on schedule and within budget.
Services Offered by One of the Best Interior Design Teams
Rusch Design Build is one of Calgary's top companies that provides various services to suit your interior needs with proper guidance. We may aid you in layouts, materials selections, choosing furniture, coordinating colours, and designing lighting, among other things. Additionally, we provide project management services to guarantee your project is finished on schedule and within your specified budget. Top interior studios can access the most up-to-date supplies and equipment. This enables them to produce an attractive and functional client-centred approach.
How to Choose the Right Design and Decorating Services for You
Choosing the best custom residential designer can be difficult. There are various things to consider, such as their background, standing, and design aesthetic. Examining a candidate's portfolio to determine whether their design aesthetic meets your preferences is a great way to narrow down your options. It's also important to read customer evaluations and get references. It's crucial to pick an interior creator with whom you get along well and who shares your style.
Home Design Trends by Interior Designers
The current trends in home design are continuously evolving, but home designers are always up to date. Bold colours, natural materials, and simple designs are the current trends. More recently, Calgary's designers are also putting technological elements into their plans. They are also designing rooms catered towards more specific uses and hobbies.
Case Studies of Successful Designers
Examining case studies is one of the best ways to view an accomplished residential interior designer's work. Case studies present the designer's signature work and show how they create their designs. They demonstrate how the designer can turn an average room into a beautiful, functional space that satisfies the client's expectations. Case studies also illustrate the designer's focus on detail and aptitude for achieving a unified aesthetic throughout the room.
FAQs About Home Design
What distinguishes interior designers from decorators?
Interior designers and decorators work with a space's aesthetics and functionality, but the two roles have a few critical distinctions. Our interior designers are trained professionals who deeply understand architecture, building codes, and spatial planning. Also, they are equipped to undertake extensive projects that involve structural changes, construction, and renovations.
Describe the process of design.
The design package process typically includes a consultation where the residential interior designer will speak with you about your needs and preferences. We'll then construct a design plan and give it to you for approval.
How long does the average home improvement job last?
How long it takes to complete the home improvement project depends on size. While a more thorough makeover can take many months, a basic one might take only a few weeks.
Testimonials from Satisfied Clients
"This team was wonderful! They are the best I have ever worked with and produced the most beautiful kitchen for us. They had great communication between the team and responded to us quickly when contacted." – Carolyn Vucsics
"Our project consisted of taking down a couple of walls, creating space for a new gas oven and an oversize fridge, adding a large island, and adding custom cabinets in the kitchen and dining area. We had a lot of help from Oliver and Tawyna (designer) throughout this process as they helped us choose everything from the general layout, to colours, counters, backsplash, and rugs, pillows and artwork to tie the whole main floor together. I want to stress how great the decision was to work with a good designer and Project Manager on this renovation.." – Kim Medcalf.