Top kitchen design Calgary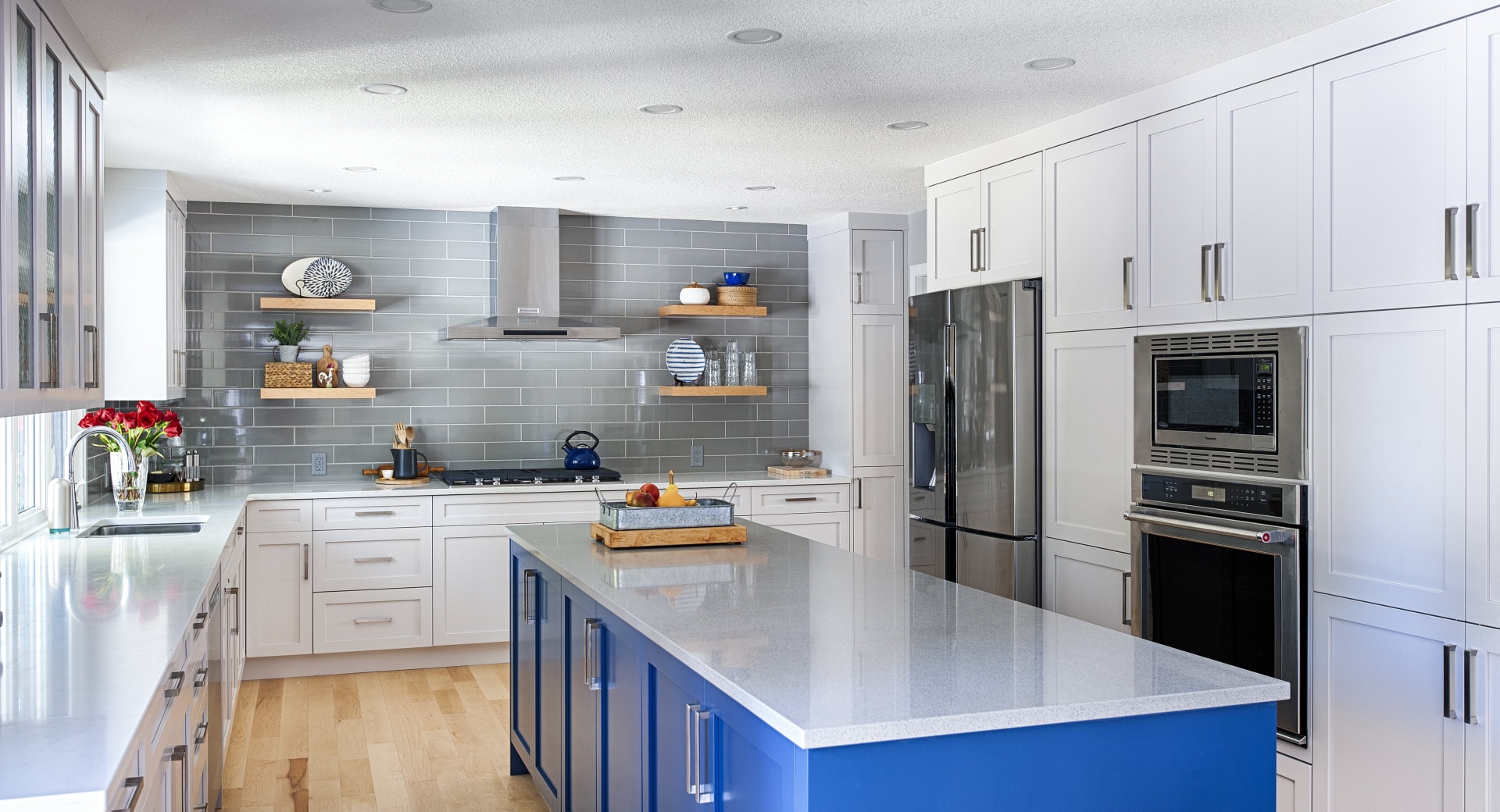 Making the decision to renovate your kitchen is the easy part, deciding who to trust to help you with your renovation is a bit trickier. Rusch Design Build has been in the home renovation industry for over 19 years! That's 19 years of experience in helping design functional and beautiful kitchens and 19 years of happy and satisfied homeowners! Rusch Design offers you a whole team of experts that will be hand selected to match your kitchen renovation needs. Our In-house designers are here to help you with creating a functional and stunning design and help selecting finishes and styles. Our project managers monitor all our job sites to ensure your project runs smoothly and stays within budget and timeline.
Do you Need a Kitchen Makeover?
Are you wondering if you need a kitchen makeover? Is your current kitchen unfunctional or not visually appealing? When deciding to do a kitchen renovation there are so many things to consider. Are you going to be hosting elaborate dinner parties for 8? Or feeding small children daily? Do you bake or cook or both? What is the budget for your kitchen renovation? All these questions and more are often why people hire custom kitchen designers. Our team will help you assess what your goals for your kitchen are and answer all your questions and more! Our in-house designer will help create a 3D rendering of what your kitchen will look like before the work beings, this part of design is often the most exciting as you get to see your vision take shape before we start! The design phase and 3D renderings allow us and you to play around with your design before fully committing, ensuring your kitchen is everything you wanted and more!
Kitchen Design Calgary
If you are thinking about getting a kitchen remodel, Rusch Design Build is a renovation contractor that offers the best custom kitchen design Calgary has to offer. Our company not only creates functional kitchen designs, but we ensure the designs are elegant and well loved by our clients. We want to help you bring your vision to life! The most important step in a kitchen renovation is design. What do you want your space to look like? Our kitchen designers can help you decide what design is best for your lifestyle. We want your kitchen to reflect who you are while staying within your budget. Our designers will be with you to assist you in selecting all your finishes, so your kitchen feels like home.
The Top Kitchen Interior Designers Calgary
Rusch Design Build has been around for almost 2 decades! We strive to continue doing our best work and be the top kitchen design Calgary has to offer. With our experience and never-ending eagerness to learn about new kitchen trends and building techniques, we can ensure you that our builds are top-notch in terms of quality, design, and functionality.
Our diverse team has a vast variety of professional and personal experience to pull from, we each have unique back grounds and strengths and it's because of that, that we are one of the best home renovation companies in Calgary! Our years of combined experience working with Calgary renovations has taught us how be the best in terms of design, technique, and exceptional customer service.
Custom Kitchen Design Calgary
A custom kitchen design doesn't have to be expensive. The price for a remodel is probably one of the biggest reasons why many people hold off on getting their dream kitchen, but here at Rusch Design Build, we work with you in deciding where to spend and where to save so you can ensure your budget is being used to the best of its potential. If you love to cook or host then your kitchen is likely a fortress of solitude where you can unlock all your culinary talents, our team can help design a kitchen that serves you best and will impress you and your family and friends. Our kitchen designs are some of the best in Calgary, be sure to check out our gallery to help get you inspired to build a luxury culinary workspace that works for you!
Benefits of a Kitchen Makeover?
There are so many benefits to kitchen makeovers, but the main ones are increased functionality, organization, and visual appeal. Something not everyone knows is that a kitchen remodel can increase the value of your home whether you plan to sell or not, and chances are if you love your kitchen, you will spend more time in it, creating and preparing meals for yourself and your loved ones!
Why Choose Rusch Design Build for Your Kitchen and Custom Cabinet Designs?
With over 19 years' experience remodeling kitchens we have built up a wide selection of kitchen designs and experience based on our past work. Our interior design team thrives by ensuring they stay on top of all the latest design trends and techniques. We strive to impress you with our designs, quality of work and customer service. We ensure we go the extra mile to make sure you are happy with your new kitchen. Communication and transparency in our expectations, designs, budgets, and timelines is key to how we run our business. We want our homeowners to feel comfortable and involved every step of the way! We treat your home as if it were our home by taking care to protect the rest of the home not under renovation and return your home to you in better condition then we found it.
We have a team dedicated to kitchen design
We have a team solely dedicated to kitchen and bathroom design. We also have a team of cabinet specialists who are ready to take on any challenge. No matter how large or tight the space is in your kitchen, our kitchen designers and cabinet specialists are ready to create the most functional kitchen space possible.
We will take you every step of the way in the designing process!
Unlike most renovation companies, we like to have our clients fully involved in the renovation and design process. We make sure that all major design changes are based on what you like and what you want to ensure that every client is happy with our work. Before we start building the remodel and custom kitchen cabinets, we want to make sure that every little detail and request is ironed out before we break ground and begin the process.
Attention to detail
Our attention to detail and custom cabinetry work is one of the things we are most proud of because we make sure that every single detail, even the most minor ones, is fit to your standards. We take pride in our work and want every client to love their home.
Endless design choices and customization options
Our endless range of design choices and customizations is something that makes our clients happy. We can custom-build any type of cabinet, get the colors you want, and make sure every cabinet is functionally and strategically placed just for you. If you look at all our previous builds, you will gather many ideas on what you want for your own kitchen space.
The best kitchen redesign for your budget
Many people have budget restraints which is why hiring a kitchen design company can be a daunting thought. However, Rusch Design Build and its custom kitchen projects provide an extensive list of packages that will fit your budget. We also provide financing to help you get started on building the kitchen you've always wanted!